Tripawds is a user-supported community. Thank you for your support!
May has turned out to be an unexpectedly busy month for our family filled with emotional highs and lows, fears and unexpected blessings, trials and triumphs. Rusty had his two week post-op visit and the surgeon said that his incision looked great and he was very happy with Rusty's progress. Our only concern was that Rusty had been starting to knuckle under on his remaining back leg (he had FHO surgery at 6 mos. ). When Rusty would get up after sleeping he was having trouble hopping and would knuckle under and stumble. The surgeon checked his conscious proprioception and he saw what we did, that Rusty was not quick to flip his back foot over. We decided to wait and watch and if it does not improve or gets worse we will visit neurology.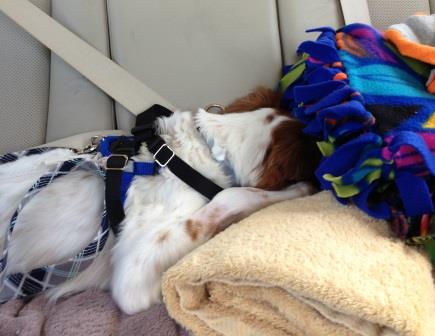 'You can't see me' – Rusty "hiding" on his way to the vet
Rusty also had his first physical therapy appointment. He was very nervous at first but when he realized that this visit did not involve needles or x-rays and was instead full of peanut butter treats he decided he was a fan of physical therapy! We went through all kinds of strengthening exercises that we will do everyday and learned that his knuckling under may be due in part to weakness in his back leg. We also learned how to use a dremel on his nails in order to keep them very short. Everyone at the rehab clinic was very friendly and encouraging. We will be back in three weeks for a follow-up.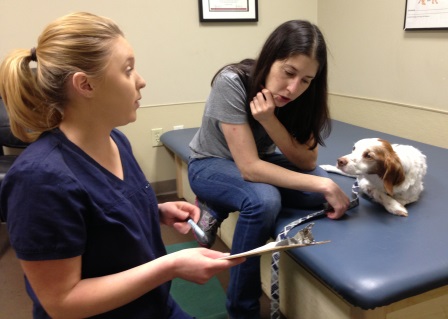 Rusty listening carefully to his physical therapy assignment
Last Friday we noticed a couple new bumps under Rusty's skin that were dark in color. I took him in so a vet could take a look at them on Saturday. She did a needle aspirate and determined that they were both sebaceous cysts – Yeah! All was well until yesterday when Rusty woke up with a stiff neck. This has happened twice before and normally lasts a couple days. We aren't sure what causes it but he is obviously in pain and can't turn his head or shake and has trouble laying his head down. We have taken him in for this before and have some gabapentin we can give him for pain. We feel so bad for him but luckily the meds work quickly and it doesn't happen very frequently.
Rusty is now taking K9 Immunity Plus and started Synovi G4. He is still on the san shedan and artemisinin and we give him turmeric and kelp powder. He really is doing so well and learning how to balance. He loves doing his physical therapy for treats and we found out by default, as he ran through his trick arsenal trying to earn a treat, that he can sit and down and roll over and even tried to shake hands while lying down which is pretty darn cute.
We are so impressed with Rusty and so thankful to everyone on this site for their input and for sharing their stories. Here's to an uneventful June…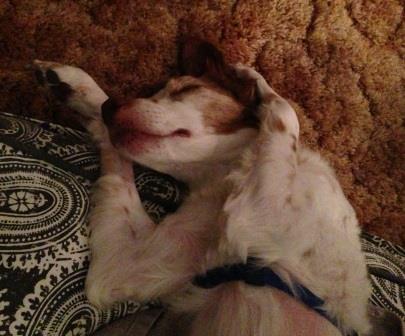 May was exhausting!