Tripawds is a user-supported community. Thank you for your support!
Last Monday at 9:15am our world stopped turning. We had taken Rusty a/k/a Mister Rusty Bucket in to a local vet for a third visit concerning what had presented as a partial ACL tear. If only. Instead within moments of examining his swollen right rear knee the vet determined that this was in fact not an ACL issue but likely bone cancer. We had lost his sister, an Australian Kelpie, to hemangiosarcoma eight months ago and never imagined that we would be here again. Rusty is a small Brittany weighing only 20 pounds and is not a usual candidate for bone cancer, but his sister, Lucy, hadn't fallen into the usual group to be diagnosed with hemangio so we are starting to put less faith into the typical cancer candidates. After x-rays and blood work up the vet recommended amputation – the next morning. Instead we decided to visit a specialist for additional x-rays, abdominal ultrasound and a blood aspirate/cytology. We made an appointment for Wednesday morning and learned that mercifully Rusty's x-rays and ultrasound looked clear and aside from an elevated ALB and low white blood count his blood work looked good as well. Then we waited. And waited. And waited. I began searching online for information for osteosarcoma and amputations and found tripawds.com. I found great relief in reading others stories about successful amputations and hearing that others were scared and worried and unsure of their decisions.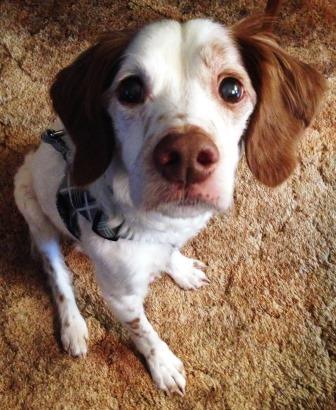 The specialist said he would call with the cytology results today and I spent the day glued to the phone willing it to ring and to be silent at the same time. I wanted to know what they had found but didn't want it to be said aloud and become real. Every time my phone made a noise I felt compelled to check. Finally at 2pm I received the dreaded/awaited call. The cytology results showed that the findings are consistent with chondrosarcoma but that osteosarcoma cannot be ruled out. The treatment for both begins the same – amputation. I thought by spending hours over the last week on tripawds I had resigned myself to this treatment plan but it still seems shocking and drastic and scary and final. I thought I had no problem with the idea of a three-legged dog, if he won't care why should I? But I do. It's his leg and his little precious red spots and his little foot that smells like popcorn. Oh and I forgot to mention this is his "good" back leg. He had FHO surgery on his left hind leg when he was a wee little bugger (I adopted Rusty after he had been hit by a car and had his pelvis shattered – the vet techs nicknamed him Mister Rusty Bucket)
The current plan is to have Rusty's right rear leg amputated on Friday. I want the cancer and the source of pain removed but the nitty gritty of the amputation makes me very nervous. I am worried about how Rusty will react and how I will react. He is the baby and the smallest of the family and my last living dog and it breaks my heart for anything to happen to him.
I am going to set about reading the positive stories on this site and take some video of my little guy twirling on four legs and snuggle him up close but right now I have to get him his dinner because he is really giving me a piece of his mind about this whole typing on the computer past dinner time thing….