Tripawds is a user-supported community. Thank you for your support!
Nine days post surgery. It was a beautiful, sunny day today on Mother's Day and we decided to celebrate with a fun car ride to get ice cream. My mom and Rusty and I took a short drive to get a vanilla cone and use the gift card Rusty had received from my Dad and sister.  Rusty LOVES ice cream and works very hard to get every last bit out of the cone.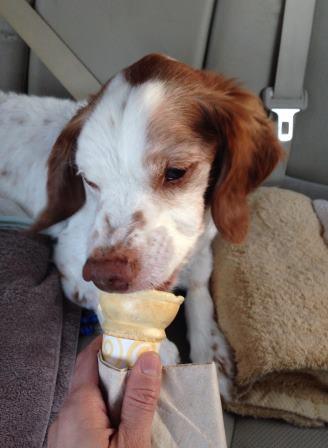 Working hard to clean out the cone….

All gone!
Rusty is continuing to heal and adjust to his life on three legs. We are adjusting to the sound of his new walk. I think he sounds like a cantering horse. We are working out a routine for food and meds and supplements and he is thrilled that this means he gets to eat more often throughout the day. We still don't have pathology results from his surgery but I am so happy with his progress that I am rather enjoying the not knowing. I still have my fingers and toes crossed for good news.