Tripawds is a user-supported community. Thank you for your support!
Yesterday was a pretty great day for our family. We received the pathology results from Rusty's amputation and it turns out that he has chondrosarcoma, grade 1, well-differentiated and not present in the lymph node. As far as cancer diagnoses go this is what we were hoping for Rusty. The results of his pre-surgery blood aspirate had shown "consistent with chondrosarcoma but osteosarcoma cannot be ruled out".  We made an appointment with the oncology department at UW Madison and had prepared ourselves for chemo but it isn't recommended for chondrosarcoma so we cancelled the appointment. We had just gone through an 18 month battle with hemangiosarcoma with our sweet Lucy and are very glad that Rusty's amputation has been successful and that he has a good prognosis. I imagine there aren't a lot of people who are cheering when they learn they have chondrosarcoma but under these circumstances we are counting ourselves very lucky indeed.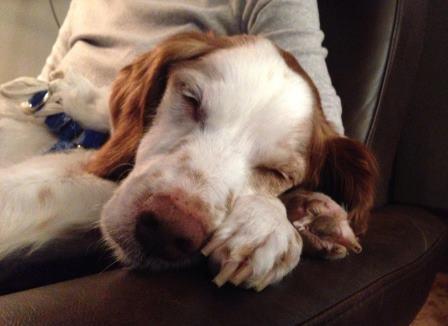 Resting Easy
On the amputation recovery front, Rusty is continuing to do very well and is learning to balance on three legs. He would really like to get at his incision so he has to wear the fancy pants Mom made for him! His can-do attitude is contagious and we are so proud of his progress.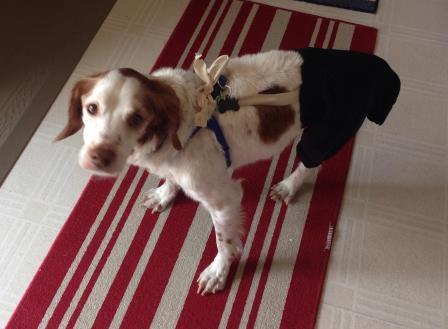 Rusty's fancy German lederhosen pants!