Tripawds is a user-supported community. Thank you for your support!
Rusty was released to come home after spending one night at the vet. I was so happy to have him home and have been amazed at his progress. When I first saw him right after surgery at 4:30pm he was very drugged. I called the techs a few times overnight to see how he was doing. They checked his vitals every two hours and he was a little chilly so he got some heat support but otherwise his numbers were good. They tried to take him out to potty at 9pm and he didn't like the sling and had trouble trying to stand. They fed him at 2am and 8am and he ate well (food is Rusty's favorite thing). They took him outside every 5 hours and because he didn't like the sling they let him try it on his own and he was able to figure out how to squat! The surgeon called at 9am and said that he was doing well and would be able to come home later that same day.
I went to pick him up and met with a tech who answered all of my questions ( I had loads of them and she was very patient and thorough). I got the bill, made a  follow-up appt. and collected his medicines and then she brought out my little guy (or little "flower" as he looked in his cone). This was the first time I had seen his incision site and honestly, it didn't bother me at all. I thought he looked beautiful.
Before I left, they showed me how he was walking and I couldn't believe that he could stand let alone take some steps. I was so impressed with how well he was doing on his first night home. Rusty ate his dinner, took his meds and peed and pooped outside! The first night he was very restless and couldn't seem to get comfortable. The next day he was able to nap soundly and was walking better every time he got up. I had gotten him an inflatable collar to wear instead of the cone but he can still reach his incision to lick so he has the cone back on today.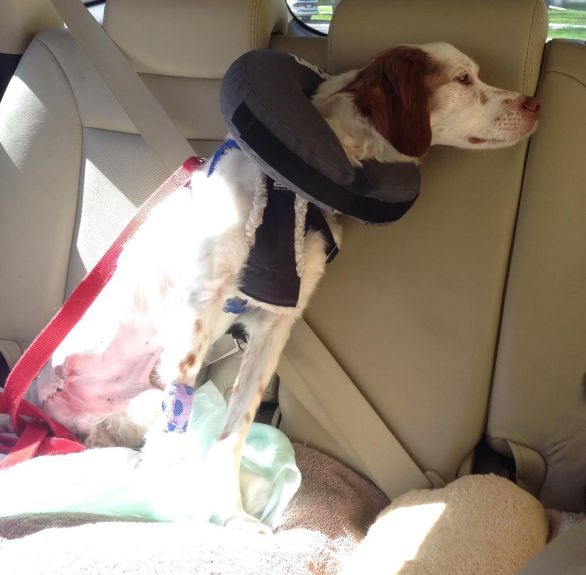 The ride home
Rusty has adjusted so quickly to having three legs and has such a good attitude. I decided I had absolutely no excuse for not doing the same! I am so proud of him and inspired by him and so glad to have him home.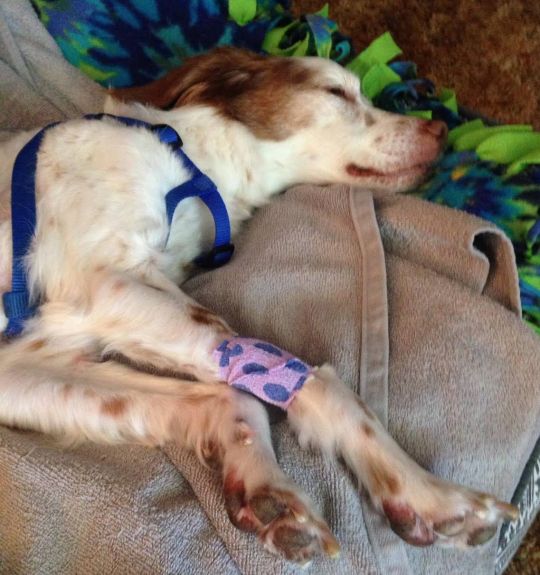 Resting at home
We should get the findings from the pathologist next week and we have gone ahead and scheduled an appointment with the University's oncology department in case we need to pursue chemo. I am doing my best just to take each day as it comes – just like Mister Rusty Bucket.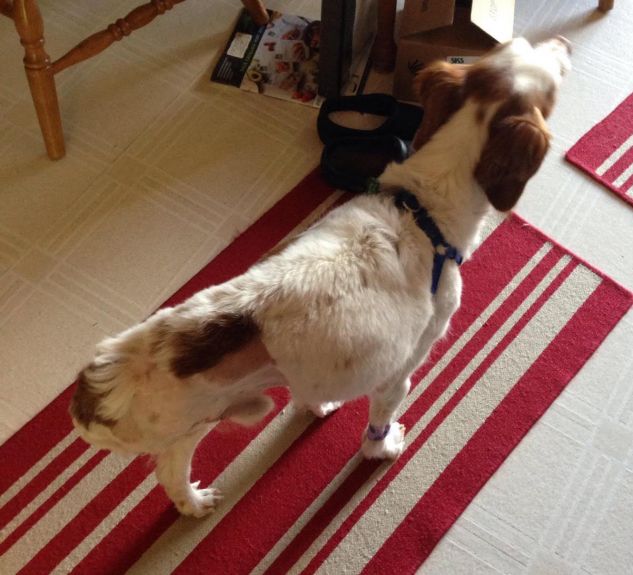 Standing on his own!
Thank you to everyone who has taken the time to read my ramblings and send well wishes for Rusty. It is helping me so much to have the support of others who have been through this same thing.
Much Love – Amy & Rusty